Missing children identified after flash flooding kills 5 in Bucks County
UPPER MAKEFIELD TOWNSHIP, Pa. - A 9-month-old boy and his 2-year-old sister are still missing after devastating flash flooding claimed the lives of five people in Bucks County over this weekend.
Officials said storms dumped upwards of seven inches of rain in approximately 45 minutes at General Washington Memorial Boulevard near Washington Crossing and the surrounding area around 5:30 p.m.
Eleven vehicles were on the road when the deluge took over, sweeping away three cars that officials say were later recovered with at least one of the confirmed dead inside. Another victim was found outside their vehicle, according to authorities. 
On Sunday, officials confirmed that a fourth and fifth body were found in the creek about a mile from the road.
Upper Makefield Township Police identified the missing baby boy and his sister as Conrad and Matilda "Mattie" Sheils. 
Officials say their mother, 32-year-old Katie Seley, was one of the victims who did not survive the disastrous flooding. 
Rescue crews totaling 100 people have been working nearly 40 hours as they survey Hughes Creek and the surrounding area in a desperate search for the two remaining victims. 
Officials say they have tripled their underwater and air assets as weather conditions continue to impact the search, which will last until dark Monday night and be re-evaluated in Tuesday morning.
"Focus on bringing our beautiful children home to their parents," police said in a morning press conference Monday.
Authorities say "one family is severely affected" by the missing victims. In a press conference late Sunday afternoon, officials confirmed they found the body an adult woman, said to be the mother of the two children still missing.
Officials went on to say a family from South Carolina was driving to a barbeque when their car was overwhelmed by flood water. The dad and his four-year-old son got out of the vehicle and made it to safety. The mother and a grandmother took the nine-month-old and two-year-old, but were swept up in the raging water. The grandmother is said to be in stable condition as of Monday morning.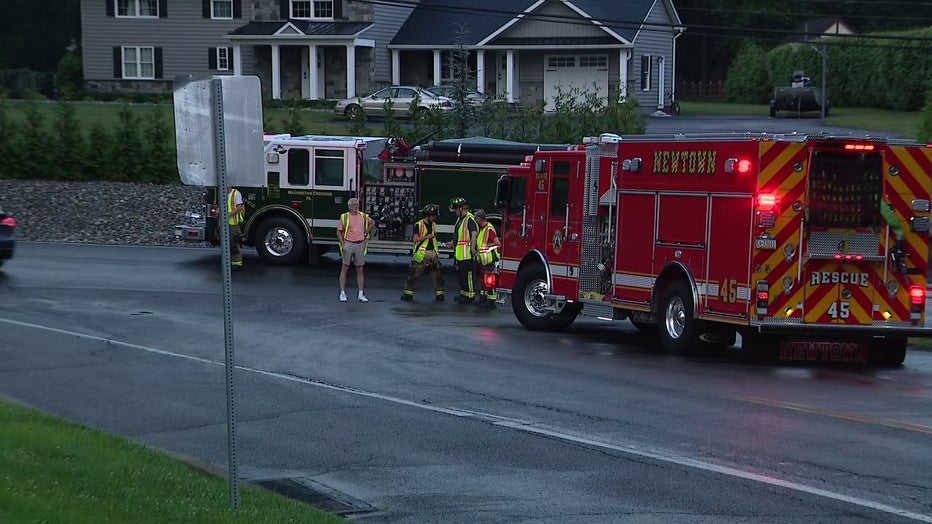 Crews were able to rescue eight people from their cars, and two people from the creek after the tragic flash flood devastated the area.
Officials did confirm that none of the vehicles drove into the flash food, but were already on the road when rain water became dangerous.
Damage to River Road in Bucks County flash flood.
Roads were left crumbling in the aftermath of Saturday's flooding in Washington Crossing and surrounding communities as flood water slowly receded before another round of heavy rain Sunday.
"This is the second time we had a major flood like this, where the water came up over the bridge, but not as disastrous as this," neighbor Allen Haldeman said.
Haldeman was returning home from a car show when police told him it was unsafe to travel. He eventually got home safely, with the help of a police officer.
Like many, he was shocked at the suddenness and devastation of Saturday's flash flood event. "I've never seen water so high, where the cars float and turn upside down. Particularly here, so it's a surprise to everyone here."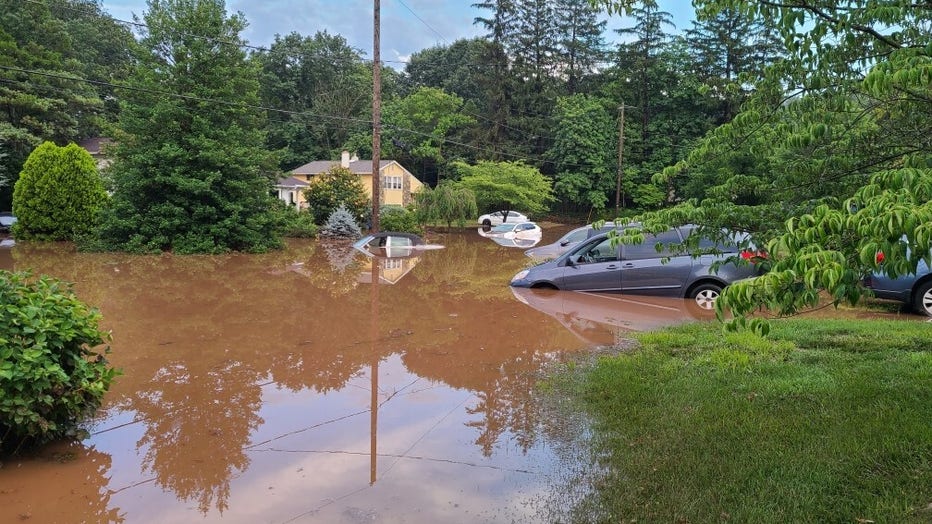 In addition, many roadways across the eastern portion of Bucks County were closed, due to roads that are broken because of the heavy rainfall or downed trees.
PennDOT advised motorists of roads that will remain closed, until repairs are completed. Those roads are:
Route 32 (River Road) Woodside Road to Taylorsville Road in Upper Makefield and Lower Makefield townships
Route 532 (Washington Crossing Road) between Dolington Road and Taylorsville Road in Upper Makefield Township
Taylorsville Road between Route 532 (Washington Crossing Road) and Woodside Road in Upper Makefield and Lower Makefield townships.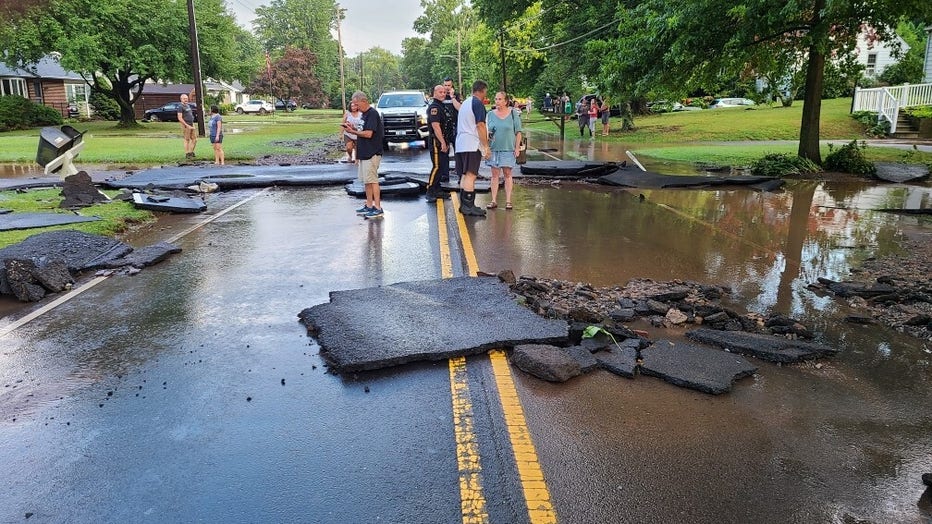 They said motorists will be directed to use Taylorsville Road, Route 532 (Washington Crossing Road), Wrightsville Road, Eagle Road, Stoopville Road, Lindenhurst Road and Route 332 (Yardley Newtown Road/Afton Avenue). Local access will be maintained up to the closures. Officials anticipate the roads will be closed for an extended period of time while damages are repaired. Motorists can check conditions on more than 40,000 roadway miles by visiting PennDOT's 511 roadway map website, or 511PA, which is free and available 24 hours a day, providing traffic delay warnings, weather forecasts, traffic speed information and access to more than 1,000 traffic cameras.
Governor Josh Shapiro says he will continue to help in any way possible. "We have your backs. We will be here as long as it takes to make sure Bucks County gets back up on its feet."