White House memo calls MS-13 'violent animals'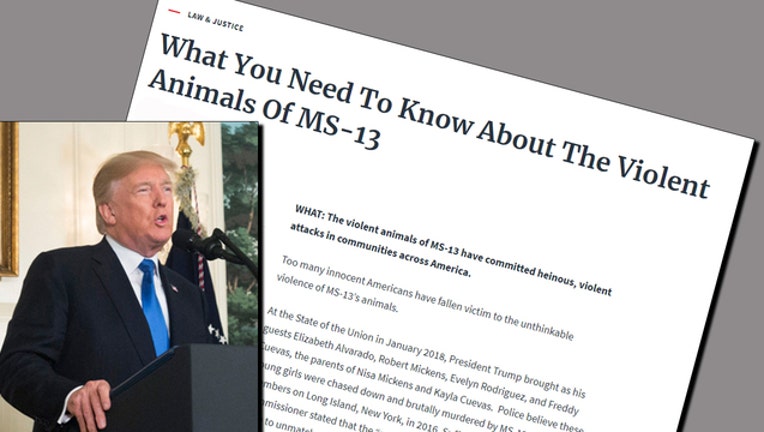 article
NEW YORK (FOX5NY.COM) - Days after President Donald Trump was criticized for using the word "animals" to refer to some immigrants who illegally cross the U.S. border, the White House released an informational statement with the title WHAT YOU NEED TO KNOW ABOUT THE VIOLENT ANIMALS OF MS-13.
"When all of our great-great-grandparents came to America they weren't 'animals,'" and these people aren't either," Senate Minority Leader Chuck Schumer tweeted last week.
But Trump has defended his use of "animals" and said he was referring to MS-13 gang members, who have the reputation of using brutal rapes, beatings, and murders to control their territory. Trump has repeatedly called members of the gang "animals."
Trump will travel to Long Island, New York, on Wednesday to deliver a speech on immigration and talk about MS-13.
MS-13, also known as Mara Salvatrucha, has committed a string of grisly murders on Long Island dating back to January 2016, according to police and prosecutors. The gang is known for carrying out particularly brutal violence with baseball bats, machetes, knives, and guns, authorities have said. In April, a Nassau County grand jury indicted the alleged East Coast ringleader of MS-13, who is known as "Reaper," according to authorities.
"New York communities have suffered tremendously from the abhorrent violence of MS-13," read the White House statement, which was posted to its website under the Law & Justice category. "In January 2017, MS-13 members were charged with killing and hacking up a teenager in Nassau County. MS-13's animals reportedly saw the murder as a way to boost their standing in the gang."
The document, which uses the term "animals" 10 times, lists several other brutal crimes that law enforcement agencies in several states have tied to MS-13 gang activity.
"President Trump's entire Administration is working tirelessly to bring these violent animals to justice," the White House statement said. The document uses the term "animals" 10 times.
Federal law enforcement officials have said they believe MS-13 originated in Los Angeles in the 1980s among immigrants who had fled the civil war in El Salvador. But after its leaders were deported, the gang took root in Central America and began to grow. An FBI threat assessment from 2008 said MS-13 engages in murder, rape, prostitution, robbery, home invasions, kidnapping, carjacking, and more.