Women killed in Yountville Veterans home attack 'accomplished,' 'brave'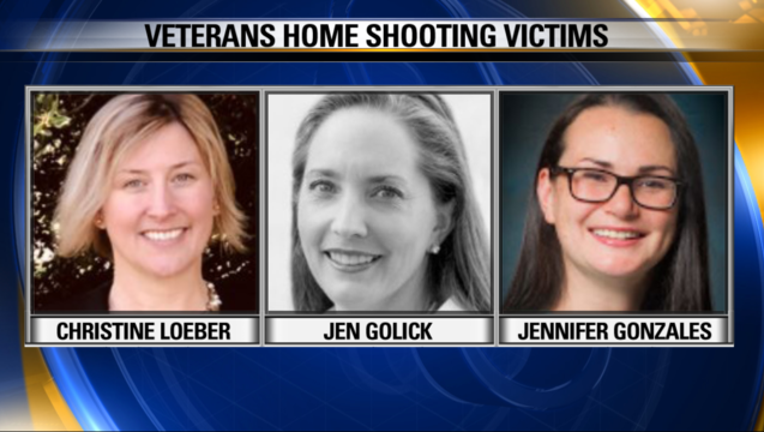 article
YOUNTVILLE, Calif. - The three women who were killed Friday during a violent hostage situation at the largest veteran's home in the nation, were brave and accomplished mental health therapists, their friends and co-workers said. 
"The three women who lost their lives dedicated their lives to helping our veterans," Yountville Mayor John Dunbar said Saturday at a news conference. "They lived their lives selflessly. They were excellent at what they do and will be sorely missed on a professional level, and even more on a personal level."
The Napa County Sheriff-Coroner's Office identified the victims of the deadly Yountville Veterans Home attack as employees of the nonprofit Pathway Home treatment program. They were clinical director Jennifer Golick, 42, of St. Helena, executive director Christine Loeber, 48, of Napa and clinical psychologist Jennifer Gonzales, 32. 
Army infantryman Albert Wong, 36, of Sacramento, a decorated veteran, who used to be a patient of the program, took them hostage after walking into a staff party on Friday morning with a rifle. When law enforcement finally entered the building in the evening, authorities found the three women and Wong dead -- he died of a self-inflicted gunshot wound.
 Dunbar called him a "warrior" who had been overtaken by "demons." 
Golick's father-in-law, Bob Golick, told the Associated Press that his daughter-in-law had recently expelled Wong from the program. The reason hasn't been publicly revealed. 
Golick studied counseling at Sonoma State University and psychology at UC Davis, according to her Facebook page. Her LinkedIn profile was also a licensed marriage family therapist with 16 years experience. Pictures show she was a major San Francisco Giants fan. Her last public post was March 4, showing her smiling with sunglasses in a Giants shirt at a game.
Her boss, Loeber, was "quiet, fierce, focused and kind," instructor Anne Seaver, owner of Hot Yoga Calistoga, wrote on Facebook. She added that she was so glad to have taught Loeber, who also loved hot pilates. Pictures show her outdoors on a hike in the town of Waterford Park and standing outside in the wine country. Her smile is wide, as ominous clouds loom in the background.
Meanwhile, Gonzales worked as a clinical psychologist with the U.S. Department of Veterans Affairs, and spent time at the Pathway Home so she could help veterans find academic and vocational programs to return to school, according to the San Francisco Chronicle. She was widely respected in the field and considered a PTSD expert. She also graduated from St. Francis High School in Mountain View in 2003. 
She was married last year and a GoFundMe page was set up for her husband, TJ Shushereba. Paul Totah posted on a Santa Clara University alumni page that Gonzales would have celebrated her one-year anniversary in April and the birth of her baby in May.