Browns select QB Baker Mayfield No. 1 in NFL draft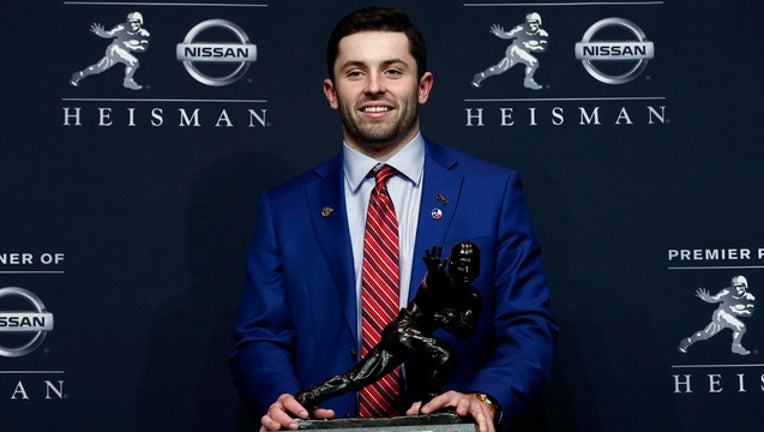 article
BEREA, Ohio (AP) - The Cleveland Browns believe all Baker Mayfield has in common with Johnny Manziel are height and a Heisman.
After months of dissection and debate, the Browns selected Mayfield, Oklahoma's cocky and charismatic quarterback with the No. 1 overall pick in the NFL draft on Thursday, a somewhat surprising selection by a team that figured to play it safe with such an important decision.
But coming off a 0-16 season, the Browns are betting that Mayfield is a better player than USC's Sam Darnold, Wyoming's Josh Allen or UCLA's Josh Rosen, a talented group regarded as the top QB class in years.
The Browns followed Mayfield's selection with another surprise, taking Ohio State cornerback Denzel Ward. Cleveland was thought to be high on North Carolina State defensive end Bradley Chubb, but instead opted for the speedy Ward, who skipped his senior season with the Buckeyes to turn pro.
Mayfield may have been college football's top player last season, when he passed for 4,627 yards, 43 touchdowns and won the Heisman Trophy. But the 23-year-old is undersized (he's just over 6-foot), and there are questions about his character following a 2017 arrest and some on-field antics which included him grabbing his crotch in a game at Kansas.
Those antics have led to the inevitable comparisons to Manziel, who was selected by the Browns in the first round in 2014 and flopped on the field while partying his way out of the league.
New Browns general manager John Dorsey has been enamored with Mayfield for some time, and believes his competitiveness and will eventually resolve the team's decades-long quarterback dilemma. Cleveland has started 28 QBs since 1999.
Last week, Dorsey defended Mayfield's character and called him "a pleasant fella. He is pretty sharp. He is fine. I have no problems with him."
Still, Mayfield was seen as a longshot to go to the Browns before word leaked out in recent days that Dorsey had the support of assistant GM Eliot Wolf and Scot McCloughan, the former 49ers and Redskins GM now working with Cleveland as a consultant, to make the pick.
Mayfield, who went 33-6 as a three-year starter for the Sooners, is the fifth quarterback taken in the first round by the Browns in their expansion era - and first since Manziel.
And although he may be Cleveland's quarterback of the future, the present belongs to Tyrod Taylor, who was acquired by the Browns in a trade from Buffalo. Coach Hue Jackson has already said Taylor is his starter in 2018, and the plan is for any rookie to sit and learn.
That might be tough for Mayfield, who walked on at Texas Tech but left the school before transferring to Oklahoma, where he became a legendary player and smashed most of the school's career passing records.
It might be daunting to join a team that has gone 1-31 the past two seasons and hasn't made the playoffs since 2002. But at this year's NFL combine, Mayfield said he's the man for the Browns.
"I think if anybody's going to turn that franchise around it would be me," he said. "They're close. They're very close. They have the right pieces. I think they just need one guy, a quarterback to make that difference."
This is the second straight year the Browns have picked first. Cleveland addressed a major defensive need and selected defensive end Myles Garrett with the first overall pick a year ago.
But while Garrett is quiet and somewhat introverted, Mayfield craves attention and loves the camera.
On the eve of the draft, Mayfield re-created an iconic photo of Brett Favre lying in his home bedroom when the future Hall of Fame quarterback got the phone call from the Atlanta Falcons in 1991 that they had drafted him.
Mayfield copied details in Favre's photo right down to wearing jean shorts. He's also the subject of a new documentary series entitled, "Behind Baker", which has given fans a closer look at his life leading up to the draft.
___
For more AP NFL coverage: https://pro32.ap.org and https://twitter.com/AP_NFL