Falcons Defense: Young maturity, veteran youth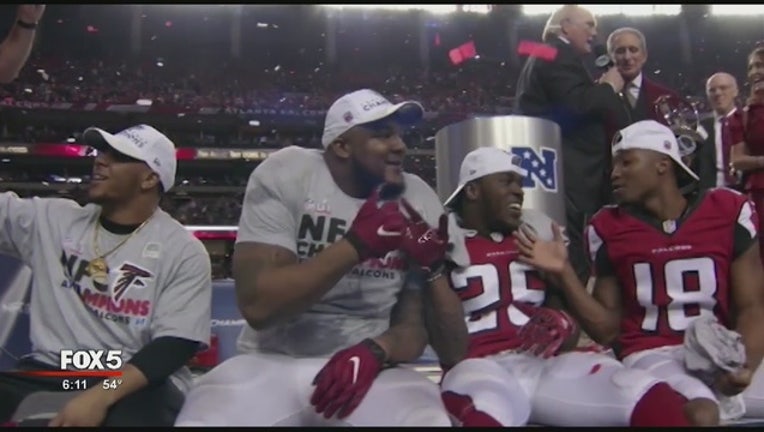 article
HOUSTON - The Atlanta Falcons defense is young, but they are growing wiser by the day. One could actually call them old souls.
It's not just the young guys acting old, there's also a kind of Benjamin Button meets Fountain of Youth thing going on with the Falcons defense not acting their age one bit and they're loving it.
"Our young guys are playing like older guys, and our older guys are now playing like young guys, sort of speak," said Falcons Head Coach Dan Quinn.
Take for example Falcons rookie linebacker De'Vondre Campbell falcon, who is 23 years old, but he does sound much like a millennial.
"I mean I have got an old soul when it comes to music anyway. I'm not really into this new age, I guess you can call it -- I don't know if it's even called music, to be honest," said Campbell.
He is one of four rookies regularly starting on the Falcons defense, guys like Keanu Neal who are told they seem mature.
"I mean when I tell them how old I am they're like shocked and surprised and that I act mature for my age and things like that," said Neal.
And now they are playing like it, mix those young guys who come in with maturing with the veterans showing they still have something left to give, like Dwight Freeney.
"I realize, man, I have been around a long time, man," said Freeney.
Atlanta found a mix that works, old guys playing young, young guys playing old.
"When I have those days, where I'm walking about one miles per hour, and I can barely lift my leg, and all I have got to do is look at those guys, it gives you a little burst of energy. You say, you know what; I have got to get going. I have got to run around with these guys," said Freeney.
"It's like the brotherhood that we have built, it's just that love and care that we have for each other and that energy. I don't know. It's just fun out there with the guys. That's the biggest thing," said Neal.
"We are just gelling well together, a bunch of guys having fun, no matter, you know, the experience in this game. A bunch of guys that have -- are eager to win and try to be successful," said Falcons defensive lineman Jonathan Babineaux.
By the way, the old school music Campbell is in to is late '90s hip-hop, that a throwback if you're 23.
"Now that you said that, I'm going to have to school him on some old school stuff," said Freeney.
Of course, these are just the rookies and veterans. Still a lot of guys in between not mentioned who are on the young side, but are gaining experience by the day.
Super Bowl LI will be played at NRG Stadium in Houston, Texas on Feb. 5 at 6:30 p.m. Full coverage can be found on FOX 5 Atlanta.