FIFA World Cup superstitions: Public urination, ghosts and more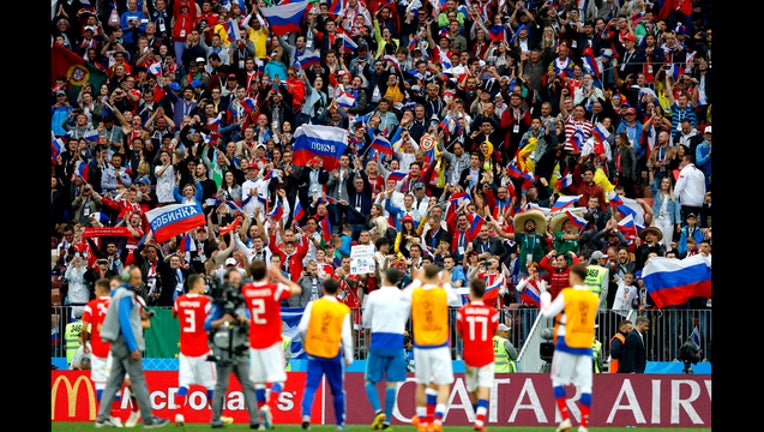 article
(WJBK) - Sometimes all you need is a little bit of luck.
Some of the most common superstitions come from the sports world, from lucky numbers to wearing the same socks every game.
When it comes to FIFA matches, teams, players and even fans have bought into some unusual superstitions over the years. Here are a few.
GOODBYE GHOST
For the Brazil national football team, a stunning defeat to Uruguay in the 1950 FIFA World Cup gave birth to a mural of the Maracanazo, which means "the Maracana Blow."
Located in a Rio de Janeiro suburb, it depicts Brazil soccer hero Neymar blowing a kiss goodbye to the ghost of Maracanazo (who looks oddly reminiscent of Nightmare Before Christmas's Oogie Boogie).
Fans visit and kiss the wall for good luck.
PEE ON THE PITCH
When you gotta go, you gotta go, especially when it's in the rule book. In the 1990 World Cup quarter-finals, an Argentina vs. Yugoslavia game lead to a penalty shoot-out. But former Argentina goalkeeper Sergio Goycoche was faced with a dilemma -- he had to urinate.
According to the rules, he's not allowed to leave until the end of the match. So he went right on the field, blocked from view by his teammates. Argentina ended up winning that shoot-out, so he did it again the next time in a semi-final against Italy. They won again.
From then on, he urinated on the pitch before every shoot out, calling it his "lucky charm."
A KISS FOR LUCK

Back in 1998, the shiny bald head of Fabian Barthez became a good luck charm for the France national football team. Defender Laurent Blanc would plant a kiss square on the goalkeeper's head before every match.
France went on to take down Brazil in the final and took home the 1998 FIFA World Cup.
The 2018 FIFA World Cup begins June 14 on FOX.