Five must-watch scenes from the best soccer movies made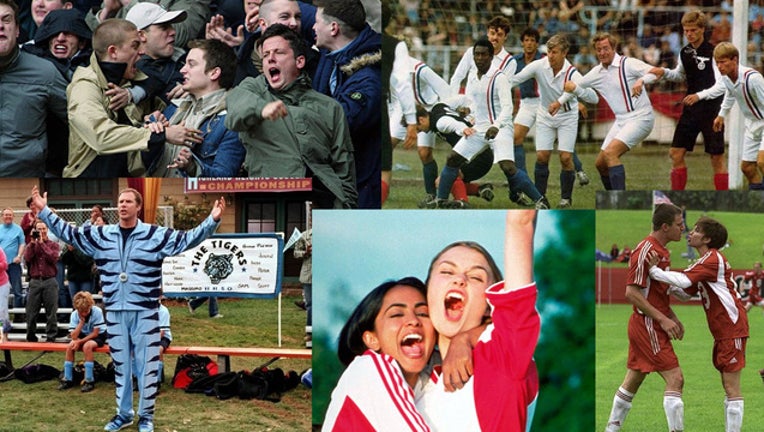 article
Soccer isn't just about the games -- it's made quite the topic for movies over the years. In honor of the 2018 FIFA World Cup, we picked our five favorite scenes from different soccer films. Some are funny, others gritty, and even inspirational.
Bend It Like Beckham
Arguably one of the most famous soccer movies, "Bend It Like Beckham" is an outstanding soccer movie because it challenges cultural stereotypes and the role of women in sports. The daughter of Punjabi Sikhs in London, Jess Bhamra (Parminder Nagra) is forbidden from playing soccer by her family because she's a girl. She's spotted playing in a park by Jules Paxton (Keira Knightley), who invites her to try our for her local team. Jess's parents find out and ban her from playing any more matches. However, the pair lead the Hounslow Harriers to the league tournament -- but it falls on the same day as Jess's sister's wedding. Coach pleads with her parents to let her play, but they refuse, afraid Jess will face the same racism her father once did on a cricket team. On the day of the wedding, Jess's parents are finally convinced she should play and take her to the game, where her team is down 0-1. A lot more goes down, but this scene is Jess's big opportunity to validate all her hard work and save the team with a free kick, where she must bend the kick around a wall of players -- something famous soccer player David Beckham is known for.
Green Street Hooligans
This film is more about the culture off the pitch than what's happening on it. The independent film follows Elijah Wood, who plays an American student visiting London who winds up becoming involved in a violent "football firm" or group of supporters. This scene is the first time Wood goes to a match at West Ham's stadium and sees what goes down on game day – including a firm member who provokes the opposing team's fans. WARNING: R-rated language.
Kicking and Screaming
The 2005 comedy stars Will Ferrell and is all about a children's youth soccer league and its overly competitive coach, Ferrell. Over the top sideline antics happen throughout the film as Ferrell tries to show he can be a winner to his overly domineering father. In this scene, Ferrell gets into an argument with real-life Mike Ditka and taunts him using a juice box. "I'm not crazy, I'm just thirsty."
She's The Man
A protagonist scoring a game-winning goal is nothing new in sports movies, but for good reason -- it just feels so dang good to watch. In "She's The Man," Amanda Bynes plays Viola Hastings who is upset after the women's soccer team at her school, Cornwall Prep, gets axed. She's laughed at when she suggests joining the boys team by both the coach and her own boyfriend. Her twin brother goes on tour with his band instead of playing soccer at an elite boarding school Illyria Prep. Scorned, Viola takes his place and plays soccer disguised as him. The movie's a take on Shakespeare's play Twelfth Night and a remake of the 1985 movie Just One of the Guys. This final scene below is when Viola comes clean -- revealing that she is, in fact, a woman -- and scores the winning goal, proving cocky ex-boyfriend Justin and the Cornwall team wrong. Gratifying.
Victory
Allied prisoners of war band together to team up under professional footballer John Colby (Michael Caine) to face off against a German team. While others on this list may be a bit more lighthearted, this movie highlights a beloved sport while taking on historical hardship. The team makes a plan for escape while playing away from the prison camp at a stadium, but at halftime, down 4-1, decide to stay and try to win. As for this clip? Pele gonna Pele. Here's where coach tries to emphasize the importance of passing and crossing. But the soccer legend has a better plan.
The 2018 FIFA World Cup begins June 14 on FOX.