Hall of Fame plaque of soccer champion Brandi Chastain is a 'freaking embarrassment'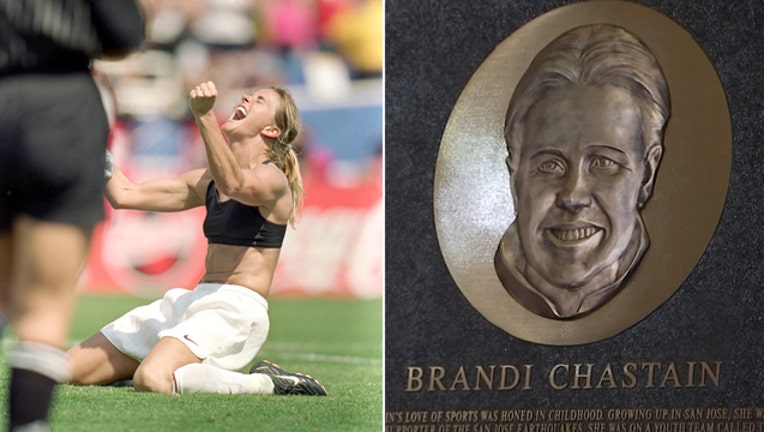 article
SAN FRANCISCO - (KTVU) - Brandi Chastain's striking image celebrating her 1999 World Cup penalty kick win by dropping to her knees and ripping off her jersey is an unforgettable and iconic image that reverberated around the world, symbolizing the sheer joy of victory and the power of women in sports.
And then there was the plaque dedicated to her Monday night inducting her into the San Francisco Bay Area Sports Hall of Fame.
By all accounts: A flop.
"No, I didn't feel it was a perfect representation," Chastain told KTVU on Tuesday. "But I'm not an artist. I don't know how hard it is to make one of these things."
Added her husband, Jerry Smith: "It's really not flattering."
Smith said that when he walked into the Westin St. Francis Hotel in San Francisco for the ceremony, he was confused.
"I walked in there and I'm trying to figure out which one is Brandi," he recalled. "I finally see her name and said, 'Oh my gosh.' I don't think that looks too much like her."
San Francisco Chronicle sports columnist Ann Killion felt both descriptions by the San Jose soccer couple were a major understatement. Killion told them, "that's a freaking embarrassment."
An unknown artist designed the bronze plaque for the Bay Area Sports Hall of Fame, which shows a lumpy floating face, at least 30 pounds heavier than the real Chastain, and a hairdo that George Washington's wife, Martha, might have worn.
On Twitter, art critics likened the Chastain to (a stoned) Jimmy Carter, Bill Belichick, Gary Busey, Babe Ruth and Mickey Rooney. The closest woman she was compared to was Mrs. Doubtfire, played by the late Robin Williams. Chastain said she looks like Biff from "Back to the Future."
Smith, now a soccer coach at Santa Clara University, explained that the bronze plaque honoring his wife – a two-time Olympic gold medalist and two-time World Cup champion – did not serve her justice because she is such a beautiful powerhouse -- something the 1999 photo of her captured for all of eternity.
Hall of Fame president Kevin O'Brien, who used to be the General Manager at KTVU, said he didn't like the plaque either, but he wouldn't out the particular artist and "ruin his career."
O'Brien said he spoke with Chastain Tuesday morning and offered to redo the plaque if she sent in a new photo of herself. She agreed and a new plaque will eventually be made, O'Brien said.
"It's expensive," he said. "But it's the right thing to do." 
Chastain was honored alongside San Francisco 49ers offensive lineman Harris Barton, San Francisco Giants pitcher Matt Cain, Golden State Warriors Tim Hardaway and former 49ers executive John McVay. Someone on Twitter said perhaps Chastain's greatest achievement is "smiling graciously next to this whacka** plaque."
The Bay Area Hall of Fame is a nonprofit that honors local athletes and awards grants for at-risk young athletes to play sports. The organization has given away more than $3 million to more than 500 youth organizations in the Bay Area over three decades.
Chastain said she hopes the plaque-flap won't cloud what really matters and will start a conversation about something more important.
"I want people to focus on what the Hall of Fame really does for our community and youth sports," Chastain said.
What the plaque looks like really isn't that big of a deal, Smith said, proudly describing his wife, and her reaction to it, as a class act.
"She always handles those things with style and grace," Smith said. "She didn't want it to take away from the wonderfulness of the night. She chose to emphasize the positive."