Here's why the World Cup is a big deal for these 5 countries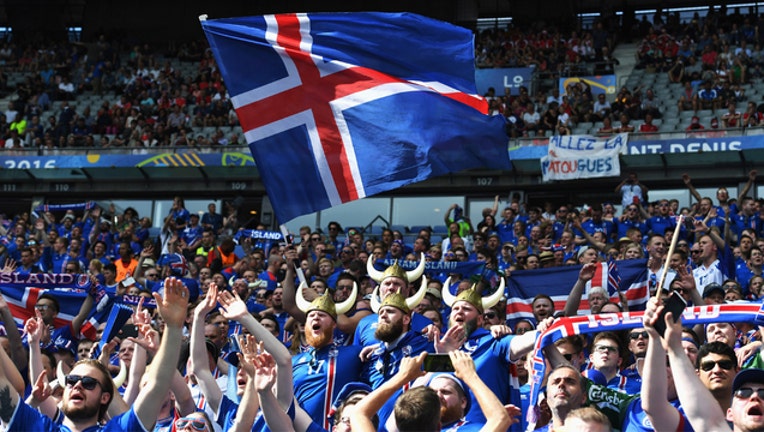 article
The 2018 FIFA World Cup is the biggest sporting event on the globe, attracting billions of viewers every four years as nations contend for the coveted golden trophy. While the FIFA World Cup is a stage where soccer icons forge their legacy and attempt the etch their names into history, it's also a big deal for the countries they represent.
No matter what language, dialect or accent one speaks with - soccer, futbol, football, or voetball – the game has a universal understanding that transcends borders, religion and culture. It's not just a sport, it's a culture that allows nations, whether big or small, to unify as one for a common goal.
As the players take center stage at the FIFA World Cup in Russia, here's why it's a big deal for these five countries:
- ICELAND -
The Nordic island nation will become the smallest country to ever compete in the FIFA World Cup with a population just above 334,000. For reference, the city of Honolulu has a population of 351,000 and the smallest state population in the U.S. is Wyoming with just over 573,000. The island is about 39,000 square miles. For comparison, the state of Kentucky is about 40,000 square miles and, in total, the U.S. is about 95 times bigger than Iceland. The tiny country became a fan favorite in its improbable run in the 2016 European Championships in which the team made it all the way to the quarterfinals, including a shocking 2-1 win over global soccer powerhouse England. During that tournament, soccer fans around the world came to love their famous Skol chant, where fans and players chant while clapping their hands above their heads. The word skol, written as skal in Icelandic, means a bowl, often filled with beer, shared among friends.
The word is also used as a toast, or in this case, as a chant. In its first ever FIFA World Cup appearance, Iceland will be led by 28-year-old Gylfi Sigurdsson of Everton and its bearded-captain Aron Gunnarsson of Cardiff City. Their coach Heimir Hallgrímsson, is a former player turned dentist who joined the club as an assistant back in 2014. Iceland will play in Group D, which includes Argentina and the legendary Lionel Messi, Croatia and Nigeria.
- URUGUAY -
The South American nation is the second smallest country in terms of population competing in the FIFA World Cup but it's no stranger to soccer's biggest stage. Uruguay hosted the inaugural FIFA World Cup in 1930, in which it won, and won the title for a second time in 1950. The country, which has been to the World Cup 13 times, claimed fourth place in the 2010 World Cup in South Africa and was bounced from the second group stage in the 2014 World Cup in Brazil. Uruguay has a population of about 3.4 million, which for comparison, is smaller than the state of Connecticut. At 68,000 square feet, Uruguay is slightly smaller than the state of Missouri which is just over 69,000 square miles.
Uruguay is led by Barcelona's Luis Suarez, who was kicked out of the last FIFA World Cup for biting Giorgio Chiellini of Italy, and 30-year-old striker Edinson Cavani of Paris Saint-Germain. Uruguay's coach, 70-year-old Oscar Tabarez, has used a wheelchair since being diagnosed with Guillain-Barre syndrome, a condition in which the immune system attacks the nerves. The nation will play in Group A, which includes FIFA World Cup-host Russia, Saudi Arabia and Egypt.
- PANAMA -
Like Iceland, the Central American country is playing in its first ever FIFA World Cup. Panama boasts a population of just over 4 million, which in comparison, is smaller than the state of Oregon, which has a population of just over 4.19 million.
Not too far from Oregon, Seattle Sounders star Roman Torres, 31, sealed Panama's first FIFA World Cup qualification with the game-winning goal over Central America foe Costa Rica. Following the country's 2-1 win and qualification for the World Cup, Panama president Juan Carlos Valera declared Oct. 15 a national holiday.
With a land size just over 28,000 square miles, Panama is smaller than the state of South Carolina, which is 32,000 square miles. Panama is led by Luis Tejada of Club Universitario de Deportes, who has scored 43 goals for the nation. The country will play in Group G, which includes Belgium, Tunisia and England.
- CROATIA -
The Eastern European country qualified for its fifth FIFA World Cup since 1998, but was previously part of Yugoslavia, which played in eight World Cups before the country was broken up. Croatia's best ranking came in 1998 when it took third place. With about 4.1 million people, Croatia's population is also smaller than Oregon. The nation is the fourth smallest land wise playing in the World Cup at about 21,800 square miles, which is smaller than the state of West Virginia.
Croatia failed to make it out of the first group stage in 2014, but is confident heading into this year's World Cup as it boasts serious firepower with star players Luka Modric of Real Madrid, Ivan Rakitic of Barcelona, Mario Mandzukic of Juventus and Ivan Perisic of Inter-Milan. The nation will look to overcome its underperforming streak as it plays in Group D, which includes Argentina, Iceland and Nigeria.
- COSTA RICA -
The Central American country is the fifth smallest country competing in the FIFA World Cup with a population just over 4.85 million. For comparison, the population of Alabama is just over 4.88 million. Costa Rica is the third smallest country land wise at just over 19,700 square miles, only edging out Switzerland and Belgium who boast much larger populations but smaller borders. For comparison, West Virginia is about 24,000 square miles.
Costa Rica has made it to five FIFA World Cups and advanced to the knockout round of eight in 2014, but lost to the Netherlands in a penalty shootout. The nation is led by goalie Keylor Navas, 30, of Real Madrid. Costa Rica will also look for big plays from star players Bryan Ruiz and Celso Borges as it plays in Group E, which features soccer power-house Brazil, Switzerland and Serbia.
The 2018 FIFA World Cup begins June 14 on FOX.