How to watch Super Bowl LII online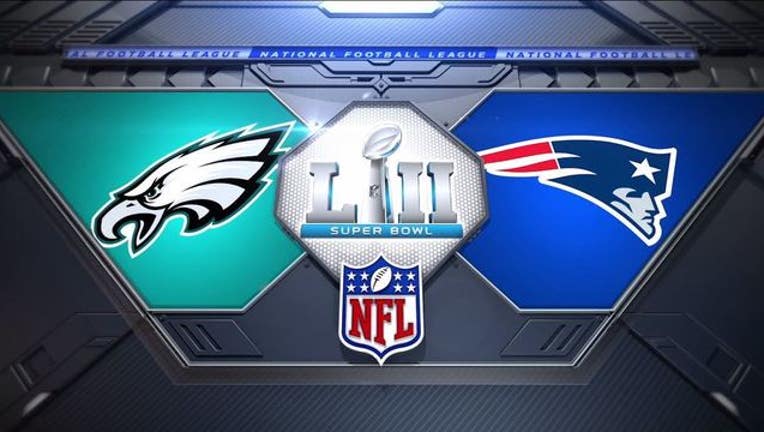 article
NEW YORK (AP) - It'll be much easier to watch the Super Bowl online for free this year.
NBC won't require proof of a cable or satellite TV subscription, meaning that anyone in the U.S. can watch the game online. Plus, you'll be able to watch the game on a phone even if you aren't a Verizon customer, as was a requirement before.
Here's your online guide to the matchup between the Philadelphia Eagles and the New England Patriots in Minneapolis. Kickoff is at 6:30 p.m. ET Sunday on NBC.
___
THE BIG GAME
The best experience will be on a big screen TV. If you don't have a cable subscription or a good signal with an antenna, you can fire up the NBC Sports app on a number of streaming TV devices, including Apple TV, Roku and Amazon's Fire TV.
Normally, TV networks require viewers to sign in with a cable or satellite subscription. That's being waived starting with the pre-game coverage at noon ET. The free viewing will conclude with a postgame episode of "This Is Us," expected to run until about 11 p.m.
On personal computers, the same coverage will be available through NBCSports.com and NBC.com, again without any sign-in requirements.
Last year's broadcaster, Fox, also waived the sign-in requirements. What's new is a lifting of restrictions on phones.
In the past, you had to be a Verizon customer to watch on a phone. A new rights deal means that customers of Verizon's rivals will be able to watch, too. On Apple and Android mobile devices, you can turn to apps from the NFL and Yahoo Sports (Verizon now owns the latter). You won't be able to watch on a phone with the NBC app, but you can use it on a tablet. The NFL and Yahoo streams will include pre- and postgame coverage, but not "This Is Us."
___
ALL ABOUT THE ADS
The Super Bowl is the rare event where viewers do pay attention to ads. A 30-second spot goes for about $5 million. NBC says local ads sold by individual stations will also appear in the online streams, depending on the viewer's location.
NBC will post the national ads at NBCSports.com as they air. An ad analytics company, iSpot.tv, will also track, record and post ads online soon after they air. YouTube's AdBlitz will also have ads, but only the ones that brands choose to share there. You don't have to wait until Sunday, as many of the ads are already available online.
___
BEYOND NBC
Although NBC has the television rights this year, other outlets are planning features around the Super Bowl.
Without rights to video, ESPN is planning to showcase "the best photos throughout the game" on its website and app. The sports network will also feature analyses of big plays and controversial calls.
The NFL also plans Super Bowl podcasts leading up to the game, along with a special edition of its daily Twitter show, #NFLBlitz, on Sunday at 1 p.m. ET.