Million dollar Super Bowl jackpot up for grabs in FOX Bet Super 6 Challenge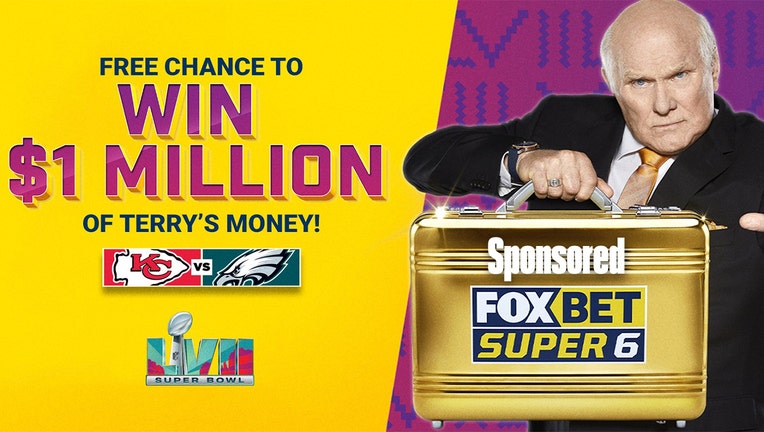 article
Of all the reasons you should watch the Kansas City Chiefs and Philadelphia Eagles face off in Super Bowl LVII on FOX and FOX Sports app, here's the No. 1 reason — One. Million. Dollars.
Technically, that would be a million reasons, but you get the drift.
Yes, get excited because Terry Bradshaw is giving away a million huge ones in the FOX Bet Super 6 Super Bowl Challenge.
Here's how you can play and win.
FOX Bet Super 6 is a free-to-play contest where you pick all six outcomes of the marquee matchup between the Chiefs and the Eagles for a chance to win $1,000,000. Just download the FOX Bet Super 6 app on your phone or mobile device, make your picks and submit your selections before Sunday's Big Game kicks off. 
Correctly predict all six outcomes, and you could be calling off from work Monday morning — and not because you had too many … nachos.
Playing the FOX Bet Super 6 contests are always free, and people really do win. And it's easy and so much fun.
Yeah, Rihanna's halftime performance might be nice, but think how many times you could see her in concert IN PERSON with all that cash in your pocket. 
You probably don't need any more convincing on why you should try your luck at playing for the FOX Bet Super 6 $1,000,000 Super Bowl jackpot. But you might need some guidance as you make your picks. That is what we are here for.
Check out our predictions below before you head over to the app to make yours.
Who will have more rushing yards — Miles Sanders or Isiah Pacheco — and how many total yards will they have?
The battle of the backs and their rushing yards total. Who will come out on top?
Well, if you follow the MVP odds and base your prediction on those, Philly's Miles Sanders should dominate here. Sanders' current MVP odds at FOX Bet are +2000; K.C.'s Isiah Pacheco's sit at +5000. The shorter those odds, the more likely that player will rack up more rushing yards, right? That's certainly one way to look at it.
But we can and should also look at how these guys have fared so far in playoffs. Sanders has 28 rushing attempts, 132 yards and two TDs this postseason. Pacheco has 22 attempts, 121 yards on the ground and no TDs. 
That's a small sample size to pull from, yes. So here's a bigger picture to consider: In Miles' epic year, he racked up 1,269 yards and 11 touchdowns to Pacheco's 830 and five.
Philly has the better rushing game, so we'll take Sanders.
Prediction
Miles Sanders, 100-109
Which player will have more receiving yards — A.J. Brown or Travis Kelce — and how many total yards will they have?
Is the Chief's Travis Kelce one of the greatest tight ends of all time? Will the blockbuster A.J. Brown trade pay off huge dividends for the Eagles less than one calendar year after it went down?
Perhaps the answer to both of these is yes, which means it might be a little more challenging to predict which player will have more receiving yards in the Big Game.
Think about this: Chiefs QB Patrick Mahomes and Kelce have combined for 13 TDs in the postseason, which is the second-most ever. Knowing how frequently Kelce has caught Patrick's passes in playoffs might make you lean toward Travis here.
But Philly's A.J. Brown has done some damage in the receiving game, too. This season, Brown has notched 1,496 yards through the air. However, Eagles QB Jalen Hurts has another wide-out weapon in DeVonta Smith. This likely means that A.J. will be splitting his receiving yards with his teammate.
Tough call, but go with Mahomes' security blanket.
Prediction
Travis Kelce, 0-99
Which team will have more second-half points and how many combined points will they have in the second half?
We're going Kansas City here. The Chiefs are a better scoring team in the second half of games, and that could be because they've let opponents hang around so long in matchups that they've had to rally to win. 
The Eagles average 10.6 points per game in the second half; the Chiefs average 12.7.
K.C. will put in work in the second half of the Super Bowl.
Prediction
Chiefs, 13-16
Which team will have the most total yards and how many will they have?
The fact that these two teams are the last ones standing should be your biggest clue that they both put up massive numbers when they step on the field.
The Chiefs absolutely rule the passing game. There, the unit averages 308.8 yards. In the running game, they average 115.9.
The Eagles, on the other hand, are near the top of the running game, averaging 147.6 yards per contest. When it comes to passing yards, Philly averages 256.7.
So who gets the edge in total yards since they both run elite offenses?
This one's almost a pick 'em, but we'll give the very slight edge here to Philadelphia. 
Prediction
Eagles, 410-429
Which team will have the most rushing yards and how many will they have combined?
The Eagles will top this spot easily. From Miles Sanders to Boston Scott, Philly will be dialed in when it comes to pounding the rock. And don't forget Hurts has wheels, too. The QB has rushed for more than 2,000 yards in his first three years in the NFL.
There's a reason they're the fifth-best rushing team in the league. Go with the Birds on the ground.
Prediction
Eagles, 175-194
Which team will win and by how many points?
The line for this huge game has jumped around more than toddlers in a bouncy house. And that's in large part because these two incredibly talented teams are evenly matched on several levels. 
Andy Reid has cemented himself as an elite leader, but the younger Nick Sirianni is proving his worth, too, as a head coach. Both coaches also have some favorable betting trends coming into this game. Both teams are 14-3 and entered the postseason as the No. 1 seed in their divisions. Both QBs are at the top of the MVP oddsboard; Mahomes is currently at +115, while Hurts is at +120. But another important note to make is both QBs are dealing with injuries that could impact their play.
Right now at FOX Bet, Philly is a 1.5-point favorite, and that's a spot we like. Yes, the Chiefs have the advantage of experience. This is their third Super Bowl in four seasons. However, the Chiefs' major flaw of letting teams hang around resulted in them going 8-11 against the spread (ATS) this season. The Eagles are a fire you can't play with like that.
We'll take the Eagles defense to stifle Mahomes & Co. in a close one as Jalen Hurts wins his first Super Bowl.
Prediction
Eagles, 4-5 points
How to play
It's your turn to jump in and try your luck at winning $1,000,000 on the last game of this NFL Season.
After you download the app and submit your selections for the upcoming contest, be sure to share your picks with us by tagging @FOXSuper6 and @EricaReneeD and using the #EricaSuper6 hashtag across all social media platforms.
Good luck!
Download the FOX Bet Super 6 app for your chance to win thousands of dollars on the biggest sporting events each and every week! Just make your picks and you could win the grand prize. Download and play today!
No purchase necessary. Open to legal residents of the US, excluding WA. 18 and older. See terms and conditions at foxsuper6.com. Sponsored by TSG Interactive US Services Limited.