Here's what Rick Pitino had to say about his future at Iona
NEW ROCHELLE, N.Y. - Iona is heading back to the NCAA Tournament after winning the MAAC Tournament crown, but much of the talk this weekend centered on head coach Rick Pitino's future.
The 70-year-old addressed his long-term plans while speaking with FOX 5 New York's Jennifer Williams over the weekend. 
"I have not made up my mind of what I'm going to do in the future because I owe it to the players, to our fan base, to Iona, to give everything I have to Iona," Pitino said. 
RELATED: Rick Pitino returns to college basketball as Iona coach
"If there's a change in the future for me, then you make the change like any other coach, like 1,500 players going into the [transfer] portal. But I have not made up my mind to go anywhere because I've loved the three years I've been here. It's been very rewarding, so a lot of people think it's over, and it's not over.  It's just something I'll have to think about if offered, and we'll see what happens."
Pitino's name has been connected to several college basketball programs, including St. Johns, which recently fired coach Mike Anderson.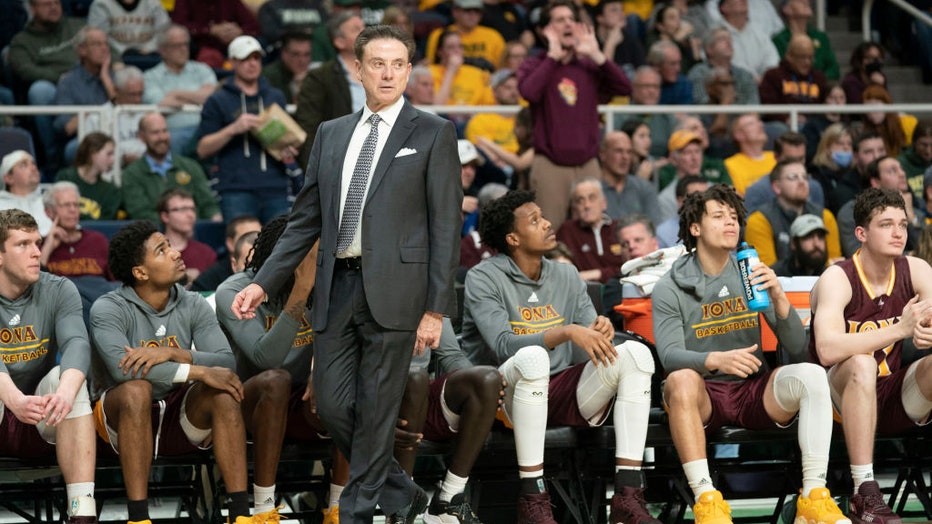 FILE- Iona Gaels Head Coach Rick Pitino looks on from the sidelines during the second half of the College Basketball game between the Iona Gaels and the Siena Saints on February 11, 2022. (Gregory Fisher/Icon Sportswire via Getty Images)
Iona enters the tournament as the no. 13 seed and will face UCONN in the West Region opening round in Albany at 4:30 p.m. ET on Friday. 
Iona went 27-7 this season and has won 14 in a row under Pitino, who's in his third season with the program after being hired in 2020.  The Gaels won their 14th MAAC Tournament title with a 76-55 victory over No. 11 Marist Saturday night.  Pitino guided the Gaels to two NCAA Tournament appearances in two of those three years, the New York Post noted. 
Pitino also coached at Louisville from 2001-17 before being fired in a pay-for-play scandal and coached in Greece. Pitino was the first coach to take three different schools to the NCAA Final Four. He won national championships at Louisville (2013) and Kentucky (1996), according to the Associated Press. 
When asked by Williams how he celebrated after Iona clinched a spot in the NCAA Tournament, Pitino quipped, "to be honest, I was hung over."
The Associated Press contributed to this story.