Super Bowl's Most Valuable Snack: Here is the most popular game day food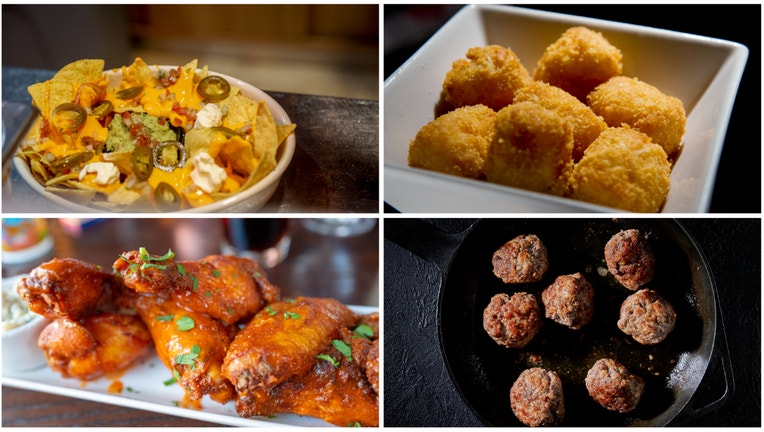 article
CHICAGO - This year's Super Bowl will be a great night for either the Kansas City Chiefs or the Philadelphia Eagles, but those teams (and their fans) won't be the only folks with something to celebrate. It'll also be a banner day for two other big groups of people: Rihanna fans, and people who love snacks.
And if there's one thing that unites us all, it's got to be snacks, right? Who doesn't love snacks?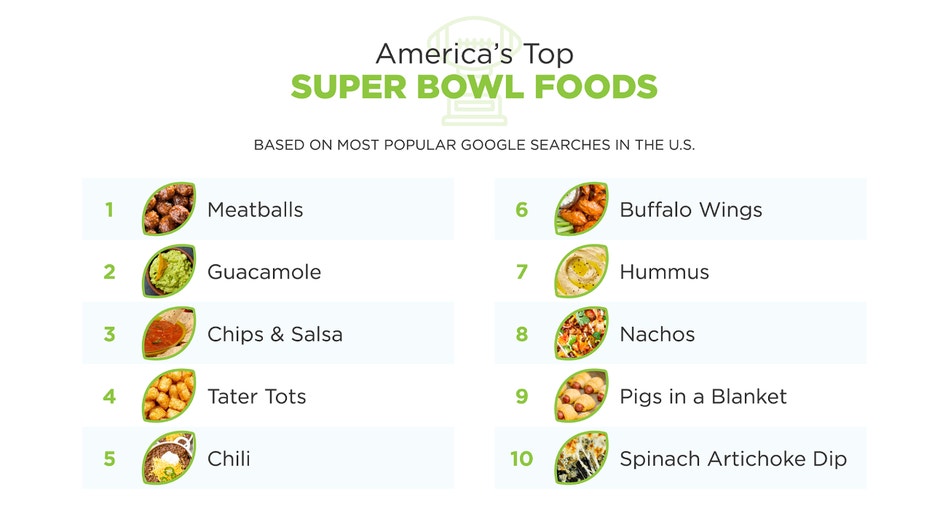 RELATED: Super Bowl Snackday: 70 percent of fans stick to appetizers on gameday
But while snacks as a genre might reign supreme for the Big Game, not all snacks are created equal. An analysis of Google searches in the United States (sponsored by online equipment auction house Bid on Equipment) shows that the mighty meatball is king of the hill when it comes to Super Bowl feasts.
Buffalo Wings triumph
While more folks might be searching for meatballs than any other food for gameday, there's another dominant force, and it shouldn't be surprising: buffalo wings. 
A survey commissioned by BoE and conducted via the survey platform Prolific revealed that 38 percent of survey respondents plan to eat buffalo wings during the Big Game. That's nearly 2 in 5!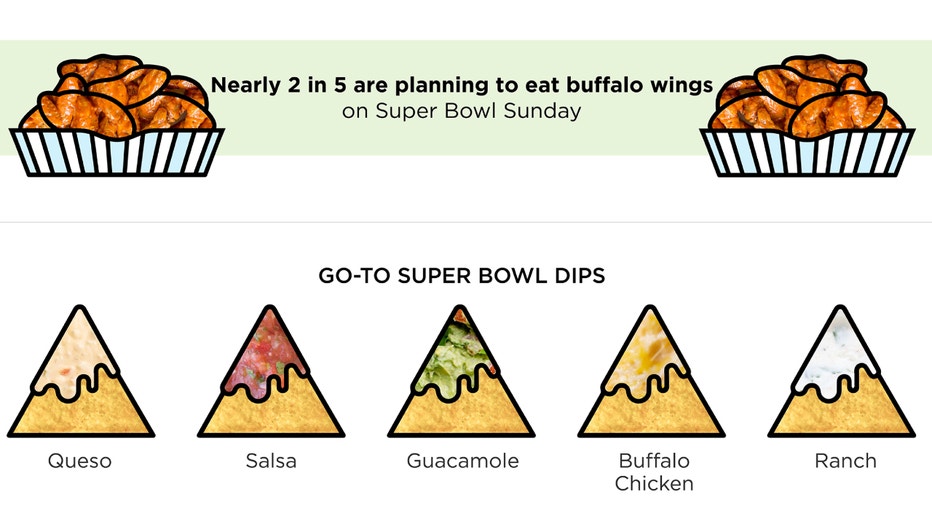 Meatballs and wings might get a lot of the glory, but never underestimate the power of a good dip. Four of the top 10 Super Bowl foods (according to BoE's analysis of Google searches in the U.S.) are dips: Hummus, spinach artichoke dip and salsa all made strong showings, while guacamole ranked #2, second only to the magnificent meatball. 
Other popular dips for the Big Game include queso, buffalo chicken and ranch. 
RELATED: Super Bowl 57: All you need to know
You can read more about the most popular game day foods – including the surprising drink that came out on top! – in this story, and keep an eye out for our continued Super Bowl coverage. 
How to watch the Super Bowl this year
This year's Super Bowl will be held on Sunday, Feb. 12. Kickoff is scheduled for 6:30 p.m. EST; programming begins at 6 p.m. EST. This year's game will be broadcast exclusively on FOX, so whether you're tuning in to see the Philadelphia Eagles face the Kansas City Chiefs, watching for the commercials or just want to see Rihanna's Halftime Show, make sure you've got your snacks ready to go by 5:59 p.m. EST.
WATCH FREE ON TUBI: "The Great Brady Heist"
Where to stream the Super Bowl for free
You can stream the championship game on FOXSports.com, via the FOX Sports app and in the NFL+ app.