WATCH: Ric Flair is hyped up over the Georgia Bulldogs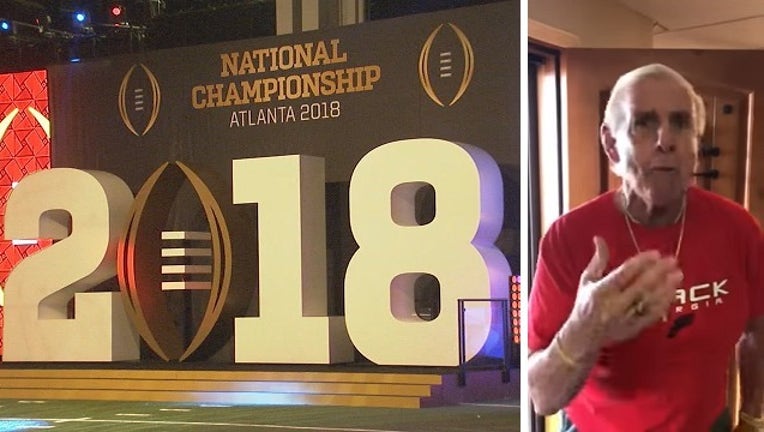 article
To be the man, you got to beat the man and wrestling legend Ric Flair believes the Georgia Bulldogs will be the men come Monday night!
App users: View full article here
Georgia will be taking on Alabama for the National Championship on Monday at Mercedes-Benz Stadium. The 68-year-old professional wrestler posted a message to his YouTube page on Friday supporting the Dawgs
"You're gonna walk out of there. Out of the Mercedes-Benz Dome [sic] National Champions," Flair said in his video.
Flair shows his full support for the dogs in a video that comes in just over two minutes long.
"The University of Georgia! Woooo! Hell yeah! Woo! Woo! Woo! Gonna style and profile, limousine-riding, jet-flying! Woo!" the Nature Boy, lending some of his infamous catchphrases to the Dawgs.
Flair also called out several key Bulldogs starting with Nick Chubb and moving on down the roster.
"Roquan Smith, you ought to a be pro-wrestler, are you kidding me?" Flair emoted
"Wooo! Jake Fromm, you look like a million bucks! You kept your composure, you're strong. you're mentally tough," Flair gushed over the quarterback.
The Nature Boy then moved on to Head Coach Kirby Smart.
"Kirby Smart, be so proud of what you accomplished... Realize one more game!" Flair challenged.
Flair also addressed how everyone is comparing this Bulldogs team to the teams of the 1980s.
"You don't need Herschel [Walker], all you need is what you have right now," Flair said. "The ingredients, the quality, the integrity, and the pride. And know you can bleed and sweat a lifetime Monday night!"
Flair also took a stab at one of his friends to his support for the Crimson Tide. Atlanta Falcons wide receiver Julio Jones, who Flair has gushed about in the past, said he was rooting for Alabama.
"Alabama? I love Julio Jones, but come on! Julio's gonna be in L.A. kicking the Rams' a-- while you guys are driving down to Atlanta to get ready to kick Alabama's a--," Flair argued. "I love you Julio, but Georgia's gonna beat your a--, Alabama!"
Ric Flair wore a Georgia Bulldogs Track and Field shirt during the video. He said his daughter-in-law is a Bulldog and is extremely active in the sport.
The Bulldogs are set to play Monday at 8 p.m. against Alabama.
RELATED: Security net dropped over Downtown ahead of National Championship