WORLD CUP SEMIFINAL PREVIEW: Croatia vs England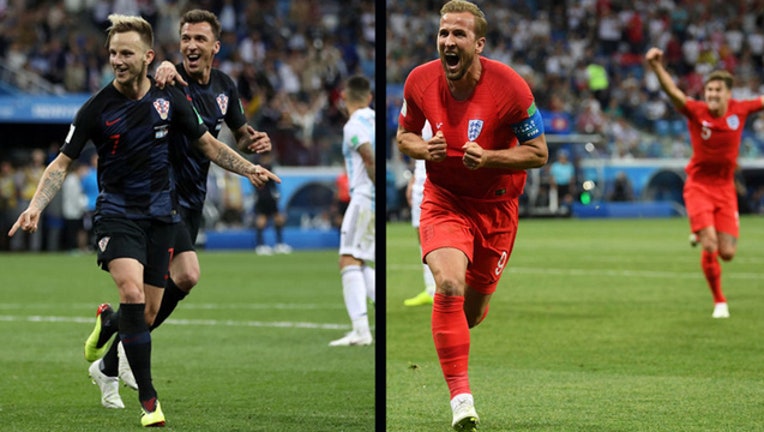 article
A capsule look at Wednesday's World Cup semifinal match between Croatia and England in Moscow:
WHY CROATIA WILL WIN
A generation of players in their primes, or just past their primes, led by a strong midfield with Ivan Pericic (29), Ivan Rakatic (30) and Luka Modric (32), with Mario Mandzukic (32) heading the attack.
WHY ENGLAND WILL WIN
After falling short for generations, coach Gareth Southgate has put together a team that is playing like a team. Striker Harry Kane was the only standout heading into the tournament. Plus the Croats are coming off consecutive penalty-kick wins and figure to have to more tired legs.
PROJECTED LINEUPS
Croatia: 4-2-3-1 - Subasic; Vrsaljko, Lovren, Vida, Strinic; Rakitic, Modric; Rebic, Kamaric, Perisic; Mandzukic
England: 3-5-2 - Pickford; Walker, Stones, Maguire; Henderson, Trippier, Alli, Lingard, Young; Sterling, Kane
MAN IN THE MIDDLE
Cuneyt Cakir of Turkey will referee his second straight World Cup semifinal match, after Argentina's penalty-kick win over the Netherlands four years ago. Cakir worked Iran's 1-0 win over Morocco and Argentina's 2-1 victory over Nigeria in the group stage this year, and he refereed Barcelona's 3-1 victory over Juventus in the 2015 Champions League final.
WORLD CUP HISTORY
In England's last semifinal match, Andreas Brehme's 60th-minute shot deflected off an onrushing Paul Parker at the penalty arc and looped over goalkeeper Peter Shilton to put West Germany ahead. England tied the score when Parker's cross bounced off Juergen Kohler and fell to Gary Lineker, who beat goalkeeper Bodo Illgner to the far post in the 80th minute. In the shootout, Stuart Pearce was stopped by Illgner on England's fourth attempt, Olaf Thon converted for a 4-3 lead and Chris Waddle shot over the crossbar.
Croatia went ahead in the 1998 semifinals only 26 seconds into the second half when Aljosa Asanovic split the defense with a pass, and Davor Suker scored his fifth goal of the tournament. Lilian Thuram tied the score a minute later after stealing the ball from Zvonimir Boban near the Croat penalty area and exchanging passes with Youri Djorkaeff. Thuram scored the go-ahead goal with a curling shot in the 70th minute, and France won 2-1.
CROATIA GOALS
vs. Nigeria (2-0): own-goal (32), Modric (71-penalty)
vs. Argentina (3-0): Rebic (53), Modric (80), Rakatic (90+1)
vs. Iceland (2-1): Badelj (53), Perisic (90)
vs. Denmark (1-1, 3-2 penalty kicks): Mandzukic (4)
vs. Russia (2-2, 4-3 penalty kicks): Kramaric (39), Vida (101)
ENGLAND GOALS
vs. Tunisia (2-1): Kane (11, 90+1)
vs. Panama (6-1): Stones (8, 40), Kane (22, 45+1-penalty, 62), Lingard (36)
vs. Belgium (0-1)
vs. Colombia (1-1, 4-3 penalty kicks): Kane (57-penalty)
vs. Sweden (2-0): Maguire (30), Alli (59)
HEAD TO HEAD
Croatians played for Yugoslavia before splitting off in 1990. England has four wins, two losses and one draw in the matchup, including a 4-2 victory in the group stage of the 2004 European Championship. The teams have not met since qualifying for the 2010 World Cup, when England won 4-1 in Zagreb and 5-1 at Wembley Stadium. England goalkeeper Paul Robinson kicked at and missed a backpass from Gary Neville, allowing an own-goal in a 2-0 loss in a European qualifier in 2006. Goalkeeper Scott Carson fumbled Niki Kranjcar's shot into the net for the opening goal as Croatia won 3-2 at Wembley the following year, causing England to miss Euro 2008. England coach Steve McClaren held a large red-and-blue umbrella on the sidelines and was mocked as the "Wally with the brolly," and he was fired the next day. They are drawn into the same group of the initial Nations League, a new competition kicking off this autumn.
SUSPENSIONS
None
INJURY CONCERNS
Croatia right back Sime Vrsaljko walked slowly off the field with an apparent leg injury when he was replaced in extra time of the quarterfinals.
England midfielder Dele Alli has not played a full match since injuring a thigh against Tunisia.
JUST SAYING
Croatia: "It won't be easy for us. We will focus in the next few days to recover as much as possible. We will look for the best solutions ahead the match, considering we have a few players with minor issues after the match against Russia. It won't be easy, but to get into the semifinals it's a new motive for us." - Croatia coach Zlatko Dalic, through a translator
England: "Probably 18 months ago I talked to them about if you have success with England, it will be so much bigger than anything you can imagine, and I think that is probably starting to register with them now." - England coach Gareth Southgate
STATS
Goals: Croatia 10, England 11
Assists: 6/5
Shots: 78/70
Shots on goal: 19/19
Shots off target: 39/30
Shots blocked: 20/21
Yellow cards: 12/5
Red cards: 0/0
Corner kicks: 26/30
Offsides: 7/12
Fouls committed: 78/53
Fouls conceded: 80/69
Ball possession: 55 percent/54 percent
Passes attempted/completed: 2,736/2,261 (83 percent), 2,665/2,318 (87 percent)
Distance covered: 360.8 miles (580.66 kilometers)/351.1 miles (565.06 kilometers)
___
More AP World Cup coverage: https://apnews.com/tag/WorldCup