Florida mom wins $2 million lottery prize after taking out life savings to help daughter battling cancer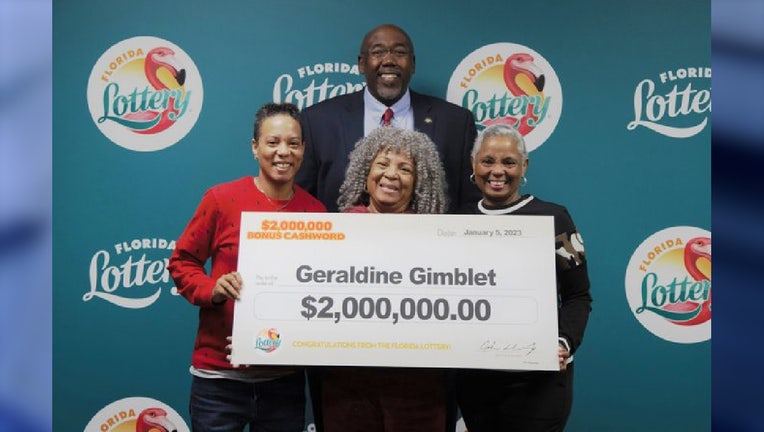 article
TALLAHASSEE, Fla. - A Florida mother who took out her life savings to help her daughter who was battling breast cancer recently won $2 million from a lottery scratch-off game. 
Geraldine Gimblet, of Lakeland, claimed her multi-million-dollar top prize at the Florida Lottery headquarters in Tallahassee. She chose to take home her winnings in a one-time, lump-sum payment of $1,645,000.
Gimblet purchased the winning ticket at the Pipkin Road Beverage Castle in Lakeland just one day after her daughter received her final cancer treatment, a news release stated.
"The day before my mom bought this ticket, I rang the bell and walked out of the hospital after completing my last treatment for breast cancer. My mom had taken out her life savings to take care of me when I was sick. I'm just so happy for her," Gimblet's daughter told the Florida Lottery. 
Officials said Gimblet played the $2,000,000 BONUS CASHWORD, a $10 game that launched in May 2022. The game's overall odds of winning are 1-in-3.12, according to the Florida Lottery. 
"At first the gas station clerk thought there were no tickets left, but I asked him to double check because I like the crossword games the best. He found the last one," Gimblet said in a statement.
The store will receive a $2,000 bonus commission for selling the winning ticket. 
The scratch-off game has three $2 million top prizes remaining.