Hallmark Channel's 'Countdown to Christmas' movie lineup released
The Hallmark Channel has released its Christmas movie lineup ahead of "Countdown to Christmas" that starts in October.
According to Hallmark, the new holiday movies start on Oct. 20 with the film "Checkin' It Twice." The TV channel lists 31 movies that will air on "Countdown to Christmas" and another nine that will run on Hallmark Movies & Mysteries' "Miracles of Christmas."
Subscribers of Hallmark Movies Now, the company's streaming service, will get to watch two of the new movies a week before they premiere on network, Variety reports. The streaming service will also air two originals: "An Ice Palace Romance" and "Rescuing Christmas."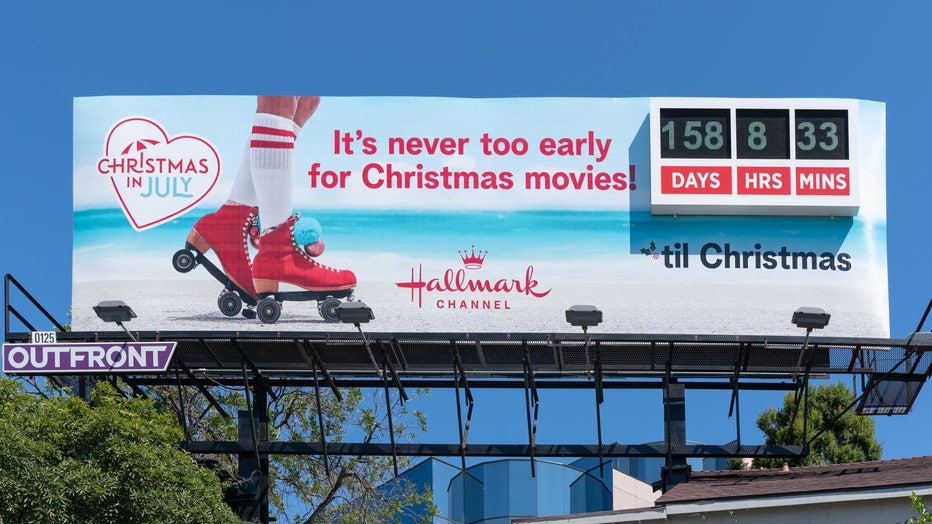 General view of a billboard in Studio City promoting the Hallmark Channels Christmas in July programming on July 19, 2023 in Studio City, California. (Photo by AaronP/Bauer-Griffin/GC Images)
The 2023 Hallmark Christmas season will see new faces in the signature films, including Chris Carmack, Erica Cerra, Jonathan Frakes, Mark Ghanimé, Humberly Gonzalez, Bryan Greenberg, Rick Hoffman, Grace Leer, Vic Michaelis, Mishael Morgan, William Moseley and Phylicia Rashad, according to Variety.
READ MORE: TikTok and Billboard team up to launch new Top 50 songs chart
Actors Lacey Chabert, Tyler Hynes, Jonathan Bennett, Warren Christie, Paul Campbell, Andrew Walker, Brooke D'Orsay, Erin Cahill, Nikki DeLoach, Brennan Elliott, Dan Jeannotte, Bethany Joy Lenz, Luke Macfarlane, Ryan Paevey and Kimberley Sustad are returning to the movie casts.
See the full lineup here.