Steve Harvey responds as only Steve Harvey can to Oscars mix up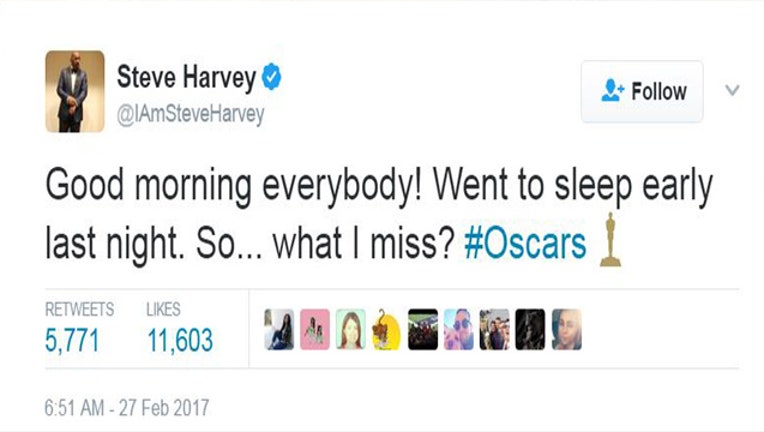 article
It's the moment everyone is talking about-- and the moment Steve Harvey has been waiting for.
The 89th Academy Awards is in the history books, but it didn't end without a huge blunder unfolding center stage.
In a complete shock of the evening, Warren Beatty and Faye Dunaway made a huge mistake, announcing "La La Land" as the Best Picture winner when in fact the winner was "Moonlight."
Related: Take two: 'Moonlight' wins best picture at Academy Awards
It was awkward for everyone involved ,especially when the producers of "La La Land" had time to thank everyone and finally discovered the wrong envelope was given.
Host Jimmy Kimmel took the stage to say "I blame Steve Harvey," jokingly. Kimmel was referencing Harvey's own mistake when he announced the wrong winner at the 2015 Miss Universe pageant. 
Harvey poked back at Kimmel on Twitter.
"Good morning everybody! Went to sleep early last night. So...what I miss? #Oscars," Harvey tweeted.
Harvey said he'd be on the radio to respond to the night's events. Moments later Harvey offered his services to Warren Beatty.
"Call me Warren Beatty. I can help you get through this. #Oscars"
If anyone can help him, it's you Steve Harvey.