Tupac Shakur Way: Oakland renames street for rap icon
OAKLAND, Calif. - The Oakland City Council voted unanimously to honor Tupac Shakur by renaming a section of MacArthur Boulevard for the late rapper.
The portion between Grand and Van Buren Avenues will be known as Tupac Shakur Way, and commemorative plaques will be placed in the area. The vote was taken Tuesday.
While Shakur was born in New York's East Harlem, he grew up in in Baltimore and Marin City. But he also proclaimed his love and connection to Oakland. Shakur got his break into hip hop through his ties to the Oakland-based Digital Underground.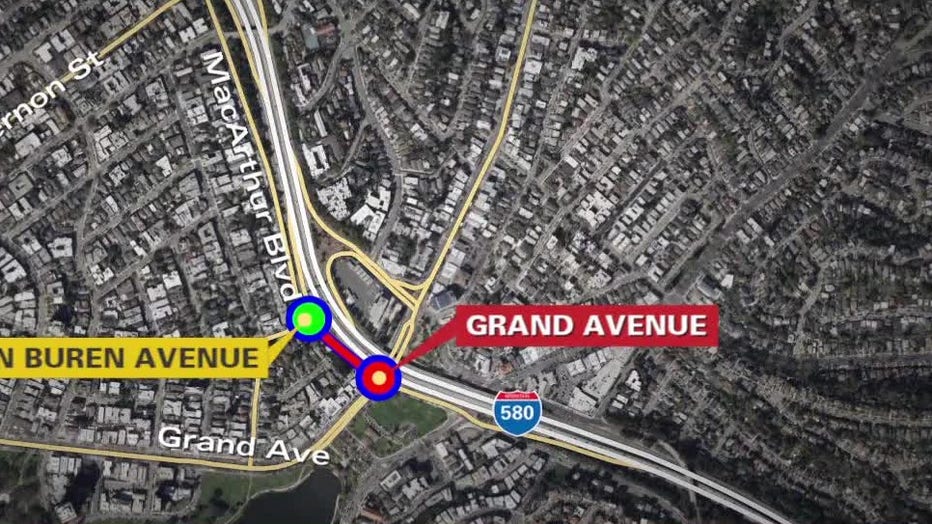 The part of MacArthur Boulevard to be renamed after late rapper Tupac Shakur.
"I give all my love to Oakland, if I'ma claim somewhere I'ma claim Oakland, even if I don't live there," Tupac said in a video interview.
Tupac was killed in Las Vegas in 1996 at the age of 25. He was the victim of a drive-by shooting, and to this day his murder remains unsolved.
Often considered one of the greatest hip-hop artists of all time, he sold more than 75 million records worldwide.
The city proclaimed June 16 Tupac Shakur Day in 2016, and he still holds a special place in Bay Area hearts.